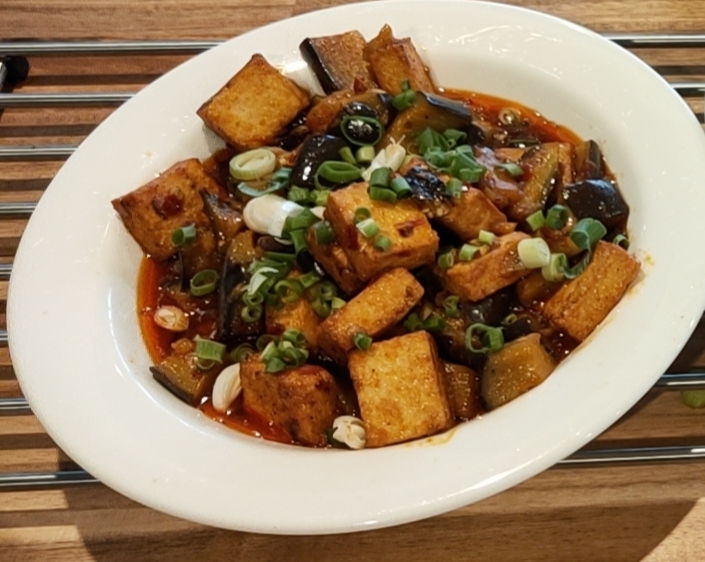 Egg plant cooked with tofu & pineapple.
This dish is vegetarian dairy free, sweet and sour with a touch of spicy, very delicious and health.
One large egg plant
3 slices of fresh pineapple ( or crushed )
One small container of soft tofu
Three cloves of garlic
one shallot
Chilli paste
Soy sauce
Sugar
Cut off the stalk and cut up the eggplant into roughly 20mm cubes, leave the skin on. Dice the pineapple into small pieces or use the crushed pineapple. Cut theTofu into roughly the same size cubes as the eggplant.
Dice one whole garlic and one shallot separately.
Add olive oil to your wok and heat.
Add one teaspoon of chilli paste (if you like spicy add two).
Stir the chilli paste gently till the chilli paste starts to burn.
Add the diced garlic and stir for one minute.
Add the egg plant cubes ~ stir till cubes are evenly mixed with the chilli paste.
Add enough water to just cover the egg plant.
Add pineapple, three teaspoon of soy sauce, two teaspoons of sugar.
Mix well, cover the wok with a lid and cook for five minutes after the water has boiled.
Remove the lid, add the tofu, mix well, cook till the juice dry out.
Add salt to your taste.
Put the food on the plate, sprinkling the diced shallots on the top ~ ready to serve