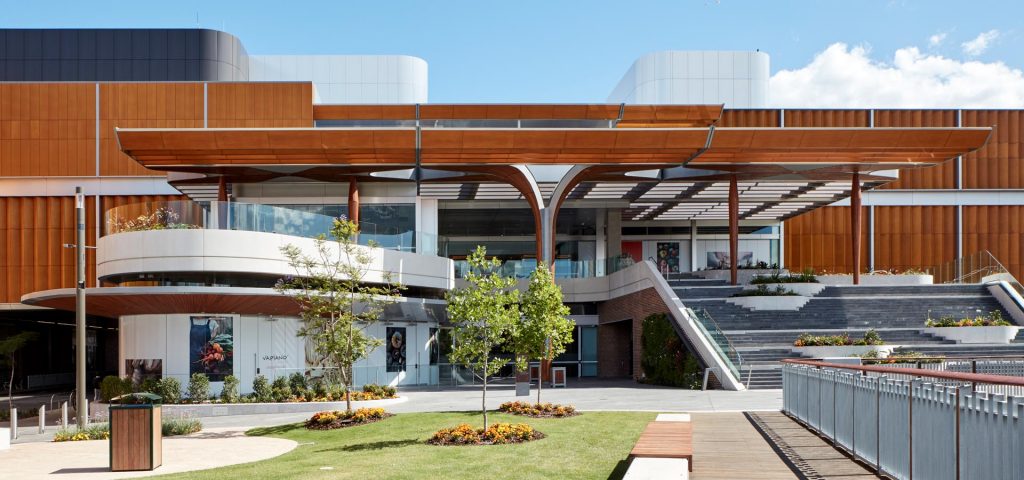 Discover Toowoomba with Laguna Apartments
Rich with history, pervading gardens and a leisurely country town feel, Toowoomba Queensland offers a laid-back holiday retreat with a wealth of ways to relax and even more to explore.

Located in the heart of the Darling Downs region, a short two hours' drive from Brisbane, Toowoomba has a unique break in store for all, where both couples and families can escape to enjoy historical sightseeing, top café and restaurant dining as well as a whole host of scenic garden walks.

If you're seeking an exciting new destination to discover, look no further than Toowoomba, which you can enjoy with our central Toowoomba apartment accommodation. Here at Laguna Apartments, we're situated in the Toowoomba city centre, providing you with a fantastic location surrounded by the best architectural sites, gardens and Toowoomba attractions.

Our one and two bedroom apartments are budget-friendly, modern and fully self-contained, featuring all the necessities to have you feeling at home as you explore everything Toowoomba has to offer. For your planning, here are all the best reasons to make Toowoomba your next getaway destination.

Toowoomba – The Garden City
Nicknamed Australia's Garden City, Toowoomba is a holiday sanctuary for nature lovers with over 150 gardens and parks scattered across the city. Presenting open lawns, unique plants and manicured hedges, floral gardens and more, Toowoomba's many parks are a sight to behold, with more than a handful to visit just minutes away from our central Toowoomba apartments.

A few not to leave out on your city garden tour include Queens Park Toowoomba, Peacehaven Botanic Park, Lake Annand Park, the Japanese Gardens and Boyce Gardens. If you're feeling adventurous, take the short drive to Peacehaven Botanic Park, located near breathtaking Highfields Falls.

These public parks and gardens are free to visit and explore at your leisure, where romantic strolls and family picnics surrounded by lush, colourful gardens are sure to become a few of the highlights of your time in picturesque Toowoomba.

Explore Toowoomba's History
Toowoomba's rich history began in the 19th century, and it can be seen firsthand in its eye-catching buildings and colonial architecture. There are many must-see historical sites to find in Toowoomba, and it's well worth visiting as many as you can throughout your visit.

On foot, take a stroll along Margaret Street, Russell Street and Ruthven Street – all just a stone's throw from our central city location at Laguna Apartments – where Toowoomba's abundance of heritage-listed sites – including villas, churches and former public buildings – offer lots to see and take in over a relaxing afternoon of exploration.

On these streets and in various other locations in central Toowoomba, don't leave without seeing St Patrick's Cathedral, Toowoomba Post Office, Toowoomba City Hall and the iconic Empire Theatre Toowoomba, which continues to host regular live music acts, theatre performances and musicals – make sure to see what's on during your stay!

Visit These Local Toowoomba Attractions
Toowoomba's tourist attractions provide a great way to change up the pace, and one of the most popular is Cobb & Co Museum – a brisk walk from Queens Park.

Cobb and Co Museum has been a staple of Toowoomba since 1987, owning Australia's largest collection of horse-drawn vehicles along with Aboriginal and Torres Strait Islander cultural objects, archaeological artefacts and natural exhibits displaying Toowoomba's agricultural history. Cobb's Coffee Shop offers tasty bites onsite, along with great gifts and souvenirs to purchase in the Museum Shop.

If you're looking for thrills in Toowoomba, Kloud9ine is a treat for kids and the young at heart – a popular family-friendly attraction with over 70 interconnecting trampolines, obstacles, balls, basketball hoops and more. Let your imagination run wild as you jump and play, with available activities such as trampoline dodgeball to further enhance the experience.

Toowoomba's Ghostly History
Adding to Toowoomba's culture is its history of spectral sightings that have attracted ghost-chasers from all over the country, with some even calling it Australia's most haunted location! Not for all but of interest to many, Toowoomba's paranormal reputation emphasises its historical stature in Queensland, with numerous sightings reported in and around its heritage-listed houses and former public buildings over the years.

If you're feeling curious, chat with the locals to hear insider information and personal stories, or endeavour to experience Toowoomba's ghostly aura firsthand with one famed location being Toowoomba Railway Station – sightings not guaranteed!

Shopping in Toowoomba – Grand Central Shopping Centre
Shopping in a new location is always an exciting pastime, and Grand Central Shopping Centre – a short 15-minute walk from our Toowoomba central apartments – has a vast choice of boutique stores, big-name brands and restaurants to browse and enjoy on a free morning or afternoon in Toowoomba.

Shop for fashion, homewares, gifts and more, with over 28 tempting places to grab coffee, breakfast, lunch and dinner inside this large, modern shopping complex. From tasty dessert vendors and fast-food outlets to upmarket restaurants, Grand Central has enough to satisfy any diehard shopper's appetite.

Enjoy the Best Toowoomba Restaurants
If Grand Central Toowoomba leaves you desiring more, quash your appetite with a wealth of must-visit restaurants around Toowoomba's city centre. Boasting a variety of cuisines and top tourist favourites, Toowoomba won't disappoint whether you're looking to dine in style or enjoy a casual gourmet experience.

Find many options on Margaret Street near Queens Park and Ruthven Street, such as Fitzy's Toowoomba and Seasons on Ruthven, with lots more to offer on Neil Street, including Encores at the Empire – a popular option before catching a live evening show.

Plan Today – Our Cheap Toowoomba Accommodation
Discover Toowoomba on your next retreat with us at Laguna Apartments, enjoy an affordable getaway in Toowoomba with our fully self-contained one and two bedroom apartments for solo travellers, couples and families, located in the heart of Toowoomba Queensland just minutes away from the city's most famous parks and gardens, attractions and must-see historical sites.

Start planning today – view our full accommodation choice and cheap direct rates by just visiting Laguna Apartments Toowoomba.