Nindigully Pub's world famous Pig Races are held annually and attract a larger crowd every year.
Publican of the Nindigully Pub, Steve Burns, and his wife Debbie have forged a huge reputation for the commitment to providing ongoing support & donations to the Royal Flying Doctor Service.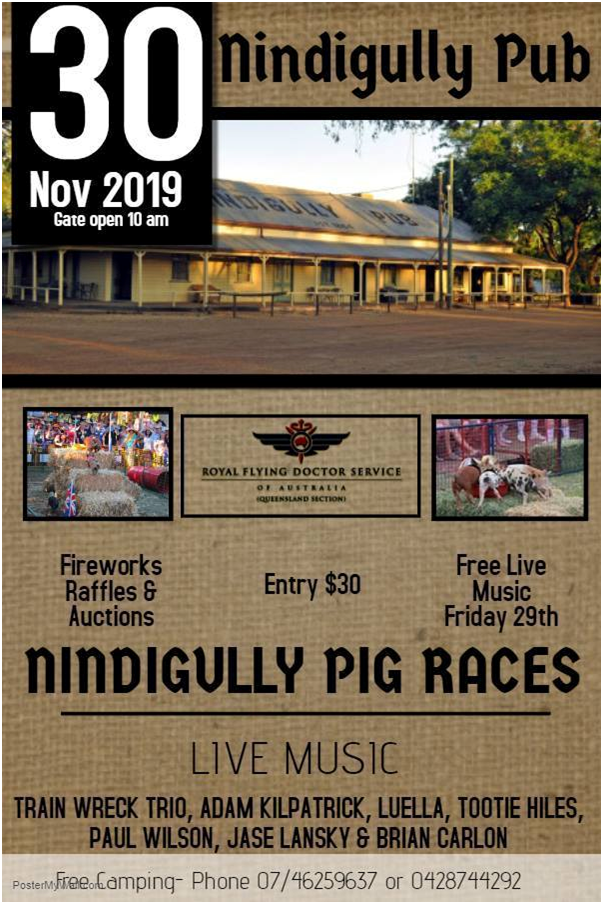 These contributions wouldn't be possible without the help of Nindigully patrons and campers who stay at the pub each year.
5th November 2018 – Message from owners Steve & Debbie Burns
Well what a day. We all at Nindigully Pub wish to thank everyone for helping us make this years Nindigully Pig Races such a huge success.
The Awesome Variety Crew that help us every year and put in such a huge effort for us.
Kev Kiley from Noahs Thoroubreed Pigs.
Dogga & Robyn Dare for all the Catering.
Kika from the RFDS.
Our awesome XXXX Rep Steve and Family
All our Amazing Friends and Family that are always there to help us out.
The Awesome Entertainers that played amazing music for everyone. Special thank you to Adam Kilpatrick and his wonderful family for helping to bring it all together.
A Huge Thank You to all our Staff.
To Everyone One that came and Supported us and showed their care and Love for the RFDS. Thank You for helping us Break a Record and Raise $41,479.45. We are All still in Shock with allot of tears shed by many.
Thank You All & see you all again next year.
Burnsie & Deb