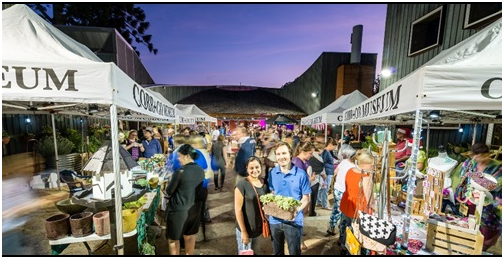 Join us to see the Museum transformed once more into a twilight artisan market offering the best locally hand made products direct from the maker.

With live music, there will be the opportunity to browse quality products with a glass of wine in hand, and chat directly with the people who made them.

Hand Made Under the Stars is the ultimate twilight shopping experience with unique gifts from more than 50 selected local artisans – the perfect opportunity to get your Christmas shopping done early.

There will also be delicious food and drinks available to purchase as well as tastings on offer in our gourmet tasting area.
Entry is FREE. All weather venue.
Find these artisans at this year's Hand Made Under the Stars:

The Quill Crafters | The Owl Tree | Tarawera Treasures | Ray's Rocking Horses | Porcelain Memories | Ponies in the Paddock | Poco's Handmade Products | Patched Up Homewares | P.A.L Designs | Nettie's Country Creations | Leah's Creative Glass Designs | KOBO Magnolia | Kat's Kool Kreations | Kailie Peters Wearable Art | Just Add Confetti | It's Sew Materialistic | Hunny T Design | Green Dandelion | Little Deer Studio | Hand Weaving Joy | Hampton Blue | Get Fobd | Geoff Henley Designs | Cottage Lane Furniture | BT Garden Planters | Bibs & Bows by Bethany | Basque Apothecary | Artisan Cusions | Glen Wardle Ceramics | Addicted to Buttons | Zhi Ba Candles | Darling Downs Cookie Company | Piers Pickles & Preserves | Me and Leigh Creations | Rocket Rose Art | Old Style Russian Fudge & Coconut Ice | My Essential Alchemy | Gail Grunske Designs | Annecan Creations | Holland Wines | Jim's Jerky | Old Style Russian Fudge Coconut Ice | Hanson Mineral Photos | The Owl Tree | Hanson Mineral Photos | Handcrafted Jewellery by Narelle | French Inspired | Budgee Garlic & Herbs | Kerry's Medieval Embroideries | MishnMesh | Chris' Toys | Deer & Fox Collective | Nature's Forge | Diana's Christmas Cakes & Puddings | Vintage Girl | Saskia's Wild Dreams | EWE-Neek Designs | Fluff Bums and Mums | Barbery Lane Bears | Debbies Heart 'The Bush Bower Bird' | Wonders of the Volcano | Metiisto Artisan Chocolate | RADHA Organics & Naturals | Funky Something | Whittle Weindeer | Melek's Baklava Shop | Bunnyconnellen Olive Grove | 4 Brothers Brewing | Janet Radke | Thomas Dixon | Andrew Reeson | Donald Francis Meagher | Kay Therese England | Lynette Ann Baker | Sally Lowe & Graeme Turner | Tony Kelly