Are you excited for the 2021 Toowoomba Carnival of Flowers? If you're looking for Toowoomba accommodation that will place you in the heart of the festivity, look no further than Laguna Apartments Toowoomba.

Situated on Hume Street, the Carnival of Flowers Grand Central Floral Parade – the main event each year – will pass right by our Toowoomba apartments. Book with us and you'll get to watch the parade from your private balcony!
We offer 1 and 2 bedroom Toowoomba apartment accommodation here at Laguna – modern, spacious, fully self-contained and ideal for singles, couples and families.

Laguna Apartments also offers a range of guest perks and facilities, including free WiFi, free Foxtel, free onsite parking and 24-hour check-in.

Book with us today so you don't miss out on Toowoomba's biggest event!

And if you're not sure what the Toowoomba Carnival of Flowers 2021 has in store, take a quick peek below.

Toowoomba Carnival of Flowers 2021

Carnival of Flowers Toowoomba takes place each spring to showcase and celebrate Toowoomba's stunning parks and gardens. Toowoomba is known as the "Garden City" for a reason, and you have to visit to discover why!

Queens Park, Laurel Bank Park, Japanese Gardens and Boyce Gardens are just a few of Toowoomba's famous garden parks, boasting manicured garden displays and floral arrangements like none other in Queensland.

The gardens bloom and come to life each spring, bringing with it the Toowoomba Carnival of Flowers and, ultimately, the best time to visit Toowoomba.

The Carnival of Flowers 2021 will once again take over Toowoomba for one whole month, celebrating its momentous 72nd event.

Throughout September, make sure to check out Toowoomba's gardens and parks, sure to take your breath away with brand new floral installations and illuminating lights. Ride The Ferris Wheel for a bird's-eye view of the Queens Park Botanic Gardens display, and don't miss massive discounts across Toowoomba's best restaurants and cafés with #trEATS.

On top of that, there will be rides and prizes at Sideshow Alley, Cinema Under the Stars, Parkland Entertainment (in Queens Park and Laurel Bank Park), arts and crafts workshops, art exhibits, the Toowoomba Orchid Society Spring Show, Toowoomba Bonsai Group Annual Show and lots, lots more!

Toowoomba Grand Central Floral Parade

The main event of the Toowoomba Carnival of Flowers!

Grand Central Floral Parade is the one event you won't want to miss this spring. Last year's Floral Parade was a static display due to COVID restrictions, but it's back this year in full swing with new floral floats and roving entertainment to dazzle and delight.

It's free to attend!

The Floral Parade starts at 10 am on the corner of Herries Street and Hume Street, leading through Ruthven Street and Margaret Street before finishing on the corner of Hume Street and Godsall Street, next to Queens Park Toowoomba.

Grand Central Floral Parade will take place on Saturday, September 18, passing right by our Toowoomba accommodation on Hume Street!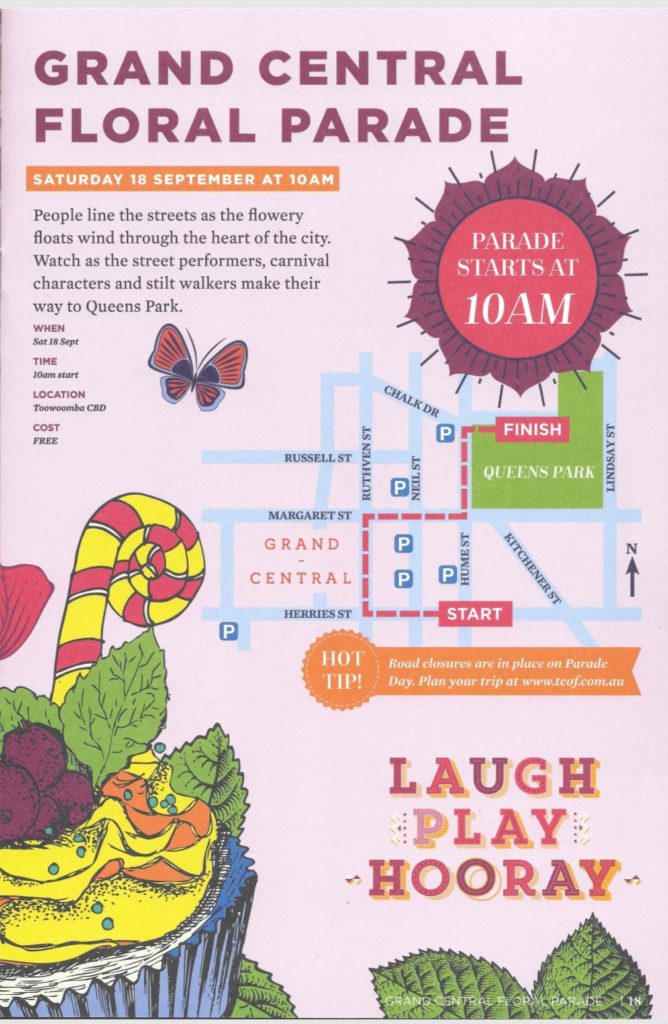 The full Toowoomba Carnival of Flowers 2021 will last one whole month from September 1 to September 30.

This event will be COVID Safe in line with all QLD Health guidelines and restrictions.

Carnival of Flowers Toowoomba Accommodation

So, what are you waiting for? The Carnival of Flowers is right around the corner and our Toowoomba central apartments won't disappoint if you're looking for accommodation that will place you right in the heart of all the excitement and festivity.

Save today – simply book directly with Laguna Apartments Toowoomba for the best price guaranteed.
View our full range of self-contained apartments Toowoomba at Laguna Toowoomba Accommodation.